2021 Organizing Conventions
Find info on the County and State Organizing Conventions coming up in April & the first of May! Click the button below to find links to RSVP & file to run for party offices:
Deadline to file: April 14, 2021 at 5 PM
CACHE COUNTY REPUBLICAN CANDIDATES WHO HAVE FILED AS OF 4/9/21 (in alphabetical order):
CHAIR CANDIDATES:
VICE CHAIR CANDIDATES:
Braden Ellis
Shellie Giddings
Andrew Lillywhite
SECRETARY CANDIDATES:
TREASURER CANDIDATES
STATE CENTRAL COMMITTEE CANDIDATES:
Marie Godfrey
Jennifer Henson
Ladd Kennington
Chris Lauritzen
Charlotte McConkie
Chris Wilson
DISTRICT CHAIR CANDIDATES:
Jeff Hall (North District)
Mark Hurd (Northeast District)
Tim Lindsay (Logan 2 District)
Charlotte McConkie (Southeast District)
Mike Porter (South District)
Deborah Van Noy (Logan 1 District)
2021 Lincoln Day Dinner
SOLD OUT!! THANK YOU!
Dear Republicans,
We are excited to announce that we will be able to have a Lincoln Dinner this year! This year's dinner will be limited seating capacity but the theme, "Land That I Love" promises to be a power-packed fun event! We are very grateful to The Vineyards at Mt. Naomi Farms for opening their doors to us for this fundraiser dinner. On Thursday, April 15, 2021, the Cache County Republican Party invites you to join us as we commemorate our 16th President of the United States, Abraham Lincoln, and celebrate the land we all love; America!
Our speakers for the evening will be Thomas Wright, a 2020 gubernatorial candidate, former RNC Committeeman, and former UTGOP Chairman. Jennie Taylor will be our Keynote Speaker, wife of Major Brent Taylor who was killed in action during a deployment in Afghanistan. She currently serves as the Civilian Aide to the Secretary of the Army for Utah and most importantly is the mother of 7 beautiful children. We have secured Iron Gate Catering to provide a delicious meal for the evening and entertainment will be provided by a trio of talented string musicians.
All proceeds from this fundraiser stay in Cache County and help us in our efforts to get good conservative Republicans elected. Through these and other contributions, the Cache GOP is also able to maintain a strong presence throughout the county by participating in local festivals and parades promoting the Party Platform and Constitution of the United States.
We invite you to support the Cache County Republican Party at this year's Lincoln Dinner! Hope to see you there!
Yours in liberty,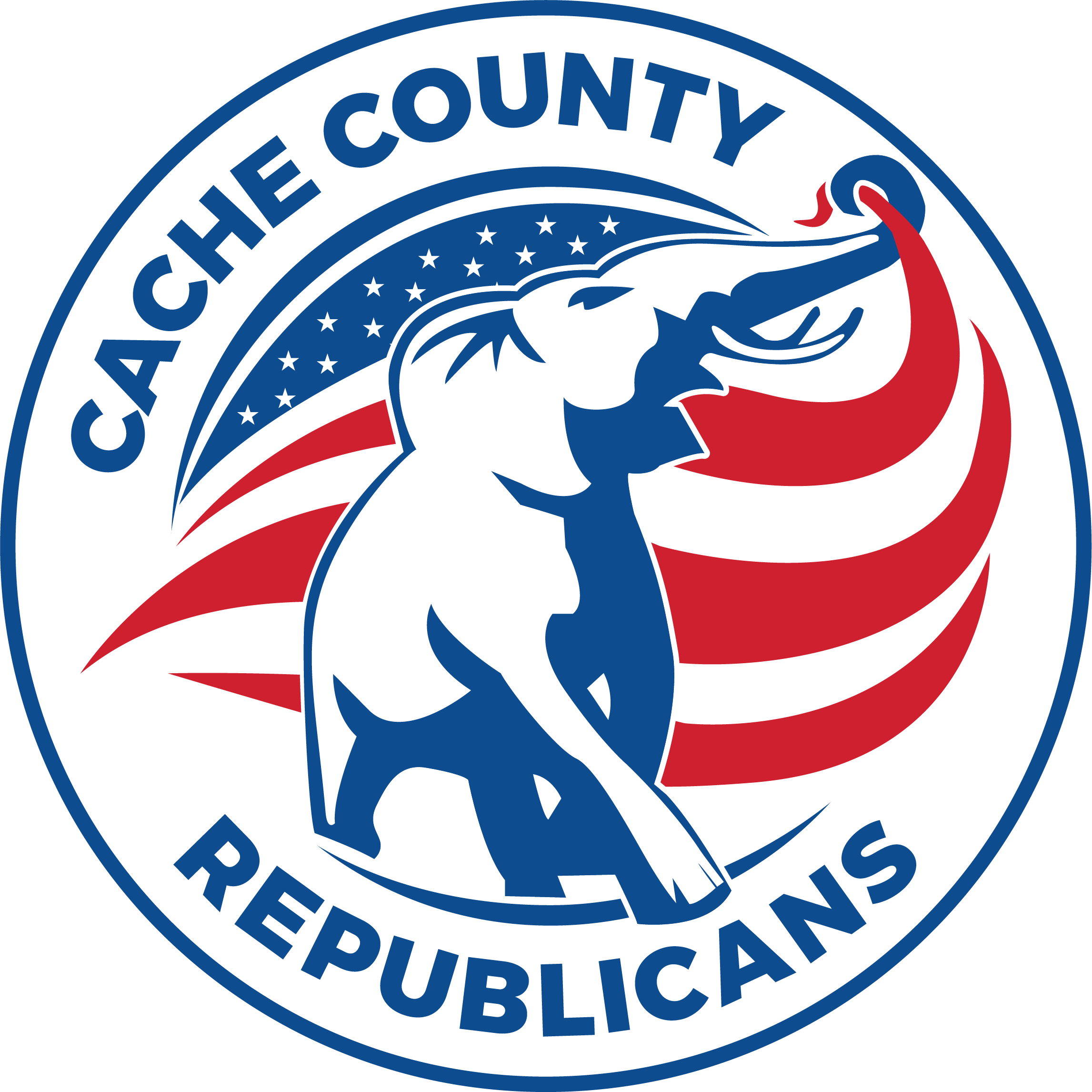 Chris Booth | Cache GOP Chair
Legislator Newsletters
Find the archived 2021 Legislative Town Halls here: https://cachegop.com/2021/03/15/weekly-legislative-town-halls/
Legislature How-to's: https://cachegop.com/2020/02/01/legislature-how-tos/
Senator Sandall 2021 Newsletters
Senator Wilson 2021 Newsletters
Representative Johnson 2021 Newsletters
Representative Snider 2021 Newsletters
April 15 @ 6:00 pm

-

8:30 pm

MDT

at The Vineyards at Mt. Naomi Farms

April 24 @ 6:00 pm

-

9:00 pm

MDT

at Mount Logan Middle School

May 1 @ 8:00 am

-

11:30 pm

MDT

at Maverik Center
| Position | Name | Phone | Email |
| --- | --- | --- | --- |
| Chair | Chris Booth | 435-554-4940 | chair@CacheGOP.com |
| Vice Chair | Shellie Giddings | 435-881-7529 | vicechair@CacheGOP.com |
| Secretary | Pam Budge | 801-390-2261 | secretary@CacheGOP.com |
| Treasurer | Gary Saxton | 435-245-0580 | treasurer@CacheGOP.com |